Nitsa Club opened November's programme last week with a new edition of Infierno by Malecón. Meanwhile, Hunee exhibited his extensive stylistic palette of classic and contemporary tunes in La (2) de Apolo
Last weekend we also discovered Acid Arab's latest album "Jdid" and enjoyed sets by Shanti Celeste and Peach that warmed us up for everything that the club has prepared for us on the Friday and Saturday nights of this month. Continue Reading to find out more!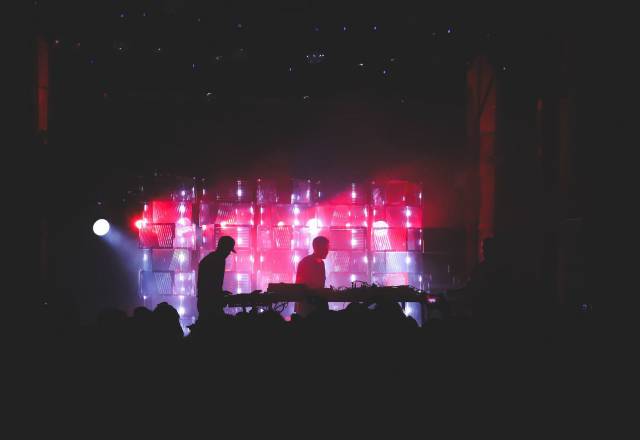 Electronic dance music is still very much Nitsa's trademark and will be particularly evident this month. Starting with the return of Mind Against on Friday 8. During their all-night-long set, the Italian duo will run through the sounds that have marked their deep, ethereal techno, house and IDM since they started out fifteen years ago.
One day later it will be the turn of Coyu, one of the most respected personalities on the techno scene with a strong commitment to cats. "All about music…and cats!" is how Suara his record label, clothing brand and NGO, dedicated to the rescue of street cats, defines itself. The DJ and producer will present his new album "You Don't Know", on which he collaborates with artists including Moby and The Horrorist.
Rapper, poet and activist... Mykki Blanco has revolutionised the parameters of hip hop both with his image and the creation of an intense and provocative persona. The North American artist will be in the club on Saturday 9th with his impressive live show. He will be accompanied by LSDXOXO and Ikram Bouloum
On Friday 15th we will welcome Dj Stingray, bastion of electro made in Detroit who has become a permanent fixture in the best European clubs. Together with him there will be a live set by the French trio J-Zbel with its debut album "Dog's Fart Is So Bad The Cat Throws Up": raw acid house, old school hardcore, jungle, GOA trance and even some gabber.
Dj Fra will join the producer Svreca for another night of his monthly residence Fraternity. The owner of the Semantica label is one of the most respected underground artists in Europe. You will understand why when on 16th November you listen to his complex and sophisticated electronic music combined with innovative and abstract techno sounds.
Libido, the nomad party by Pau Roca & Gon, will delight us with a visit from one of the most relevant names from the deep house universe: Black Jazz Consortium. The artist from Queens will present his latest album "Evolution Of light" on the night of Saturday 16th.
Sala Apolo will host a new night of Nitsa X Somoslas with the popular Honey Dijon When? On Friday 22nd November. The sets by the North American artist are influenced by the house scene of her native Chicago and are renowned for their boundless power and depth.
On 23rd November Detroit Swindle will be live together with Lorenz Rhode, offering a set of the freshest, most dynamic house on the contemporary electronic music scene. Advocates of a meticulous deep and magnetic electronic music in the United Kingdom, HAAi and Afrodeutsche will be behind the decks in Astin on the same night.
With a chaotic live show of rapid distorted rhythms and spontaneous electronic sounds, the last Friday of the month it will be the turn of the Congolese collective KOKOKO!. Together with them, the club will welcome the ever-compelling DJ and Ugandan writer Kampire.
Finally, the label, Looking for Trouble will hit Nitsa Club on 30th November with its creator Mall Grab and DJ sets by Nite Fleit, Skin On Skin and Dj Rosario. Behind the decks of Astin we will have Karenn, the techno duo live act by Blawan and Paria
Urban beats and new electronic sounds in Malecón
This November, Malecón adds a calendar of new sessions by representatives of the most avant-garde urban and electronic music scene.
On 8th November, Laureen Rebeha Zouaï, AKA Lolo Zouaï, will present her r&b and pop proposal, that spans across France, Algeria and the United States, live. And if you didn't get to see Faka on the XS stage at Sónar 2019, it will also be the chance to enjoy a session by this floor-filling duo. Their live futuristic dancehall is always a spectacle of unrestrained energy that is well worth experiencing.
J-E-T-S is the project by Jimmy Edgar and Machinedrum, probably two of the most eccentric and unique producers in the last decade. Defending their totally unprecedented and malleable style with elements of techno, house, IDM, hip hop, r&b and pop, will be in Nitsa Club on 15th November.
On November 22, La Zowi will present the mixtape "Ama de casa" live accompanied by her usual brother-in-arms, Mark Luva. As on the first Friday of the month, Loli Zazou, the woman behind Choice Club at Abaixadors 10, will kick off the night.
Club Marabú is back on 29th November with a line up headed by the Chilean artist Tomasa del Real. From Los Angeles, the new queen of neoperreo has become the champion of the darkest of reggaeton. DJ Python, a regular who has already played at Primavera Sound 2018 under all his aliases, will come in his guise that is closest to Latin and Caribbean rhythms. Completing the line-up of the night, we will have Bod [包家巷] and Drakis.
▶ Check out the whole programme HERE. ◀